---
    BY Blake Jones  
Looking back at the feature cars I've photographed and written about over the past 12 months, it's hard to find much similarity. Between wide-body Porsches, blown burnout machines and retro Mopar racers, four tyres are pretty much all they've shared in common. But then again, that's half the fun of being a Speedhunter – we get to write our own rules. However, there is one common theme that I've identified in the cars I choose from the many, many possibilities: overall 
completeness.
 Yes, there are plenty of eye-catching rides out there, but the ones that really make a mark on me are those where the owner has well and truly reinvented the vehicle into something different and new.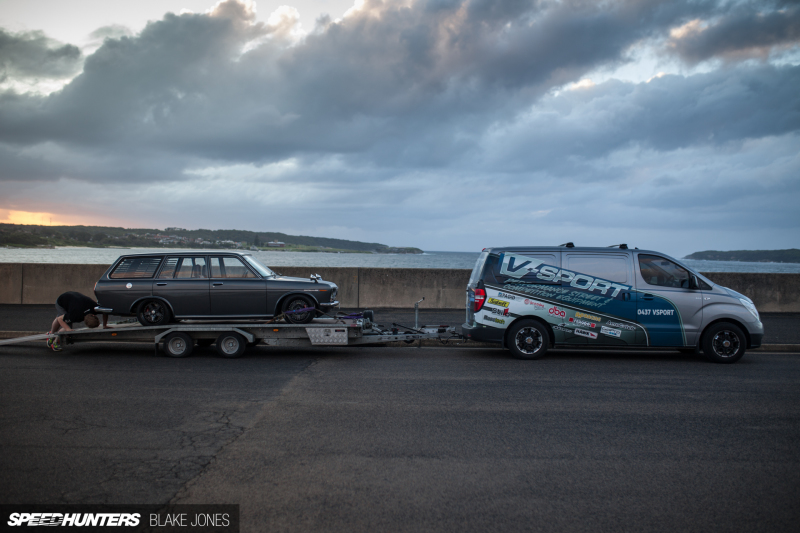 When this little Datsun 1600 wagon arrived at our shoot location, it was actually the first time I'd seen it completed in the flesh. But having spied the car as a work-in-progress at the World Time Attack Challenge last year, I started following every step of the build on the owner's social media pages. Thus, it was a bit of 
deja vu
to see the car for the first time despite knowing it quite well.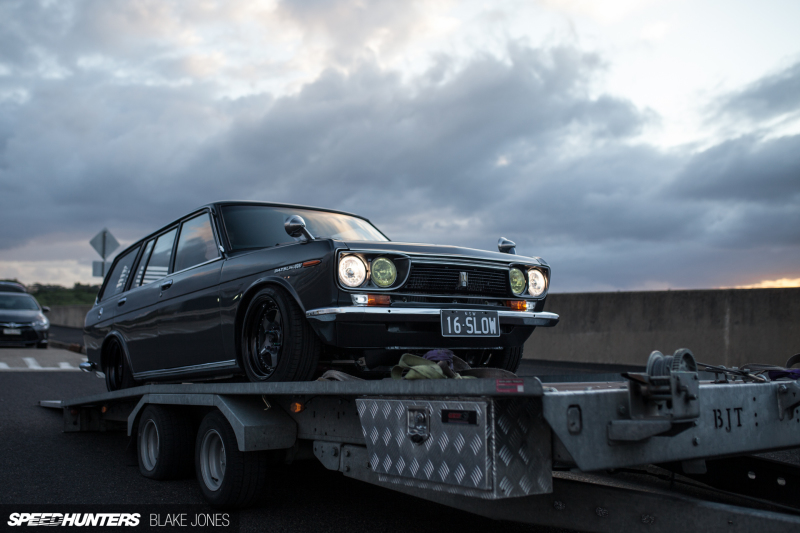 As we all know, seeing a car in the flesh is infinitely better than in some poorly compressed Facebook photo album. The first thing that struck me about the wagon was the paint – such a subtle colour, but expertly mixed and applied.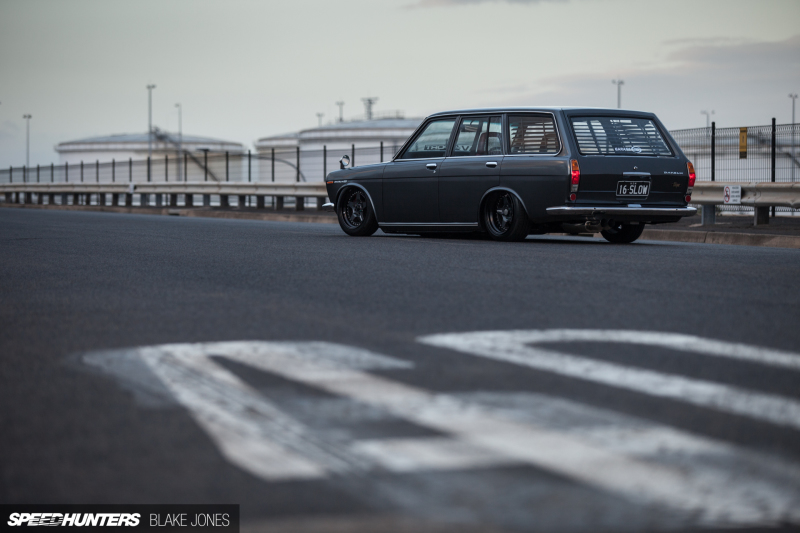 It's a custom hue that is closely related to the 'Gun Metallic' available on the R35 GT-R, keeping things in the family so to speak. I really wanted to let the paintwork speak for itself in these photos, so hopefully you can enjoy it as much as I did on this mercifully grey mid-summer's morning.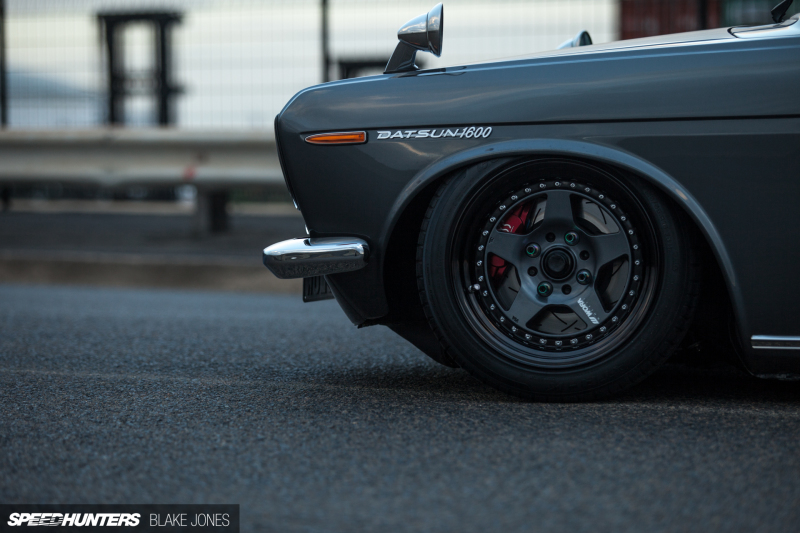 The owner and creator is no stranger to vehicular customisation. John's past rides have included an eclectic mix of Australian and Japanese models both old and new, and he currently manages the motorsport operation at Sydney's V-Sport, meaning he is intimately acquainted with the V-Sport Toyota 86 that impressed all who saw it at WTAC.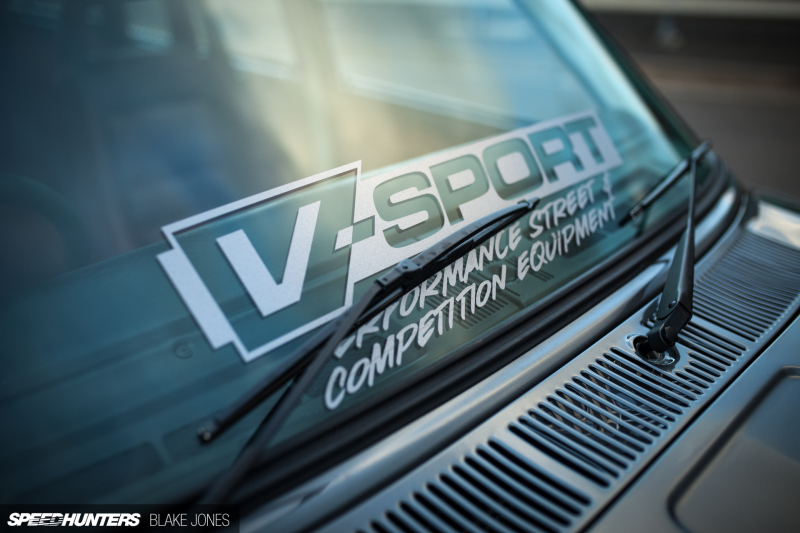 A friend of John's had an exceptionally straight 1600 and no space to keep it, so John did the only sensible thing and bought it from him. Over the next two years it was transformed by John and whatever friends could lend a hand after hours at V-Sport's Western Sydney workshop.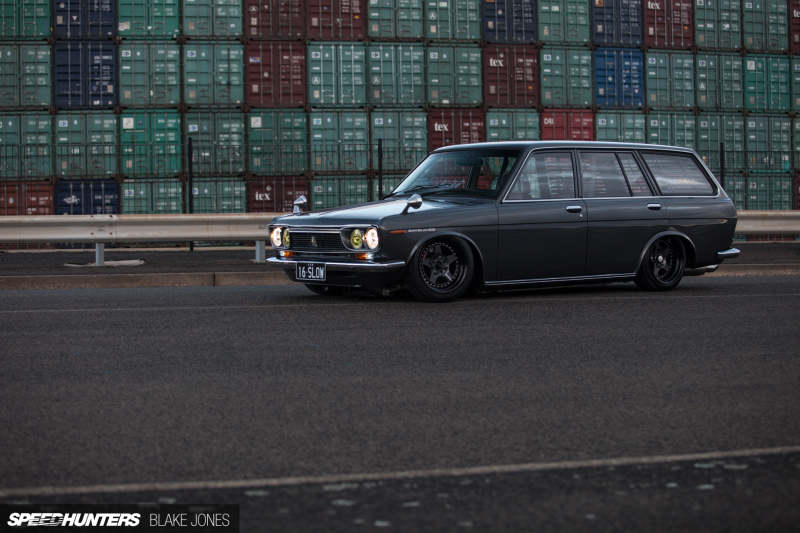 He never intended it to be anything more than a car for him to enjoy with friends, but the end result ticks so many boxes and looks so effortlessly cool, that I imagine that although Speedhunters might be the first media outlet to feature this car, it certainly won't be the last.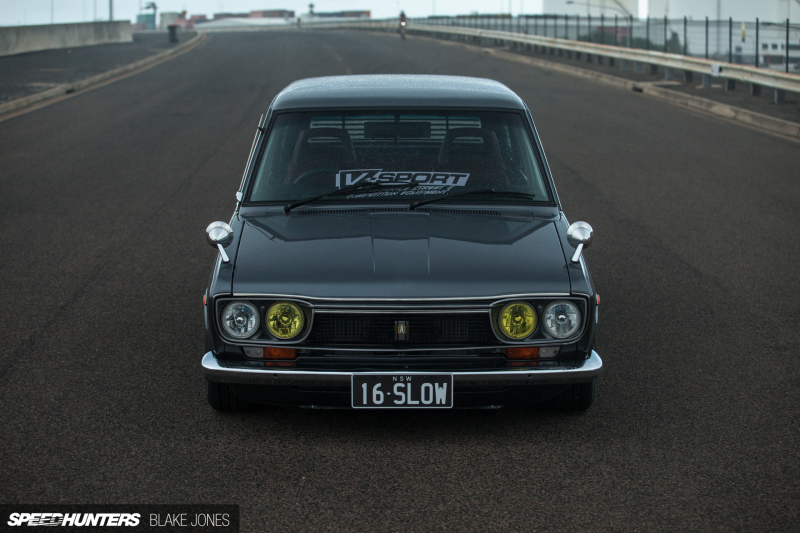 This is not a car that slaps you in the face with outrageous wheel fitment, a sacrilegious engine swap, nor widened bodywork. Rather, the thoughtfully curated components – JDM fender mirrors and a JDM Bluebird grille for example – work together to complement the original and familiar lines of this 510.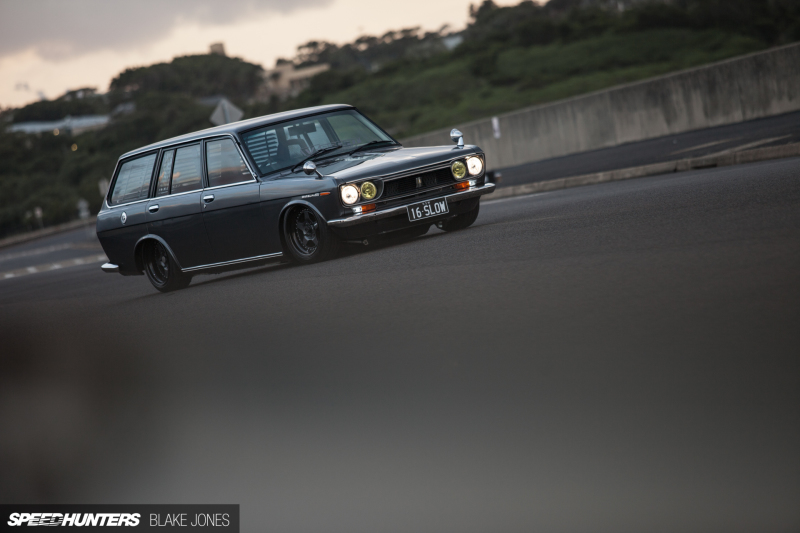 Although it doesn't show on the finished product, John claims he was rushing to finish the car before the arrival of his first child. In fact, John missed out on attending the shoot as the baby was due to arrive any minute and (showing great prioritisation skills) he decided to stay with his wife, hence the trailer and truck in the opening few photos. John and his wife have since had their first child, a little girl who will no doubt love cruising 'round in dad's Datto!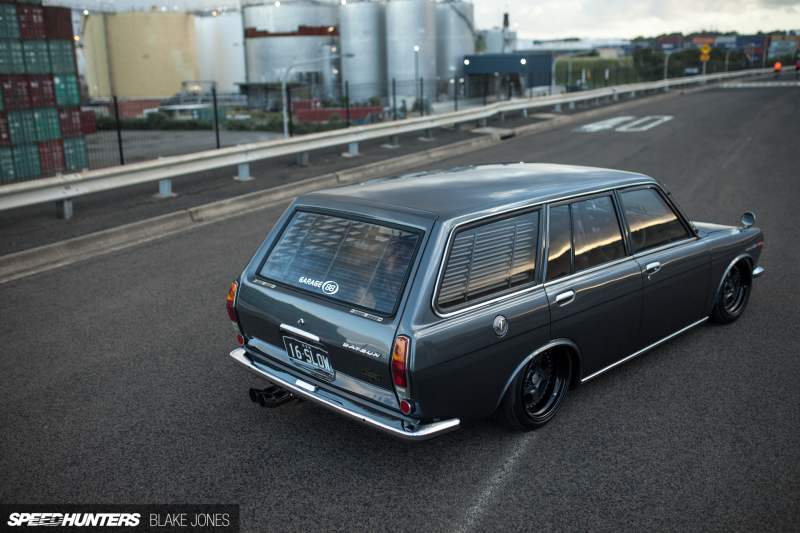 On the subject of family, you might think the rear venetians were part of John's plan all along, but they were actually a gift from his wife upon completion of the build. Isn't that just the best?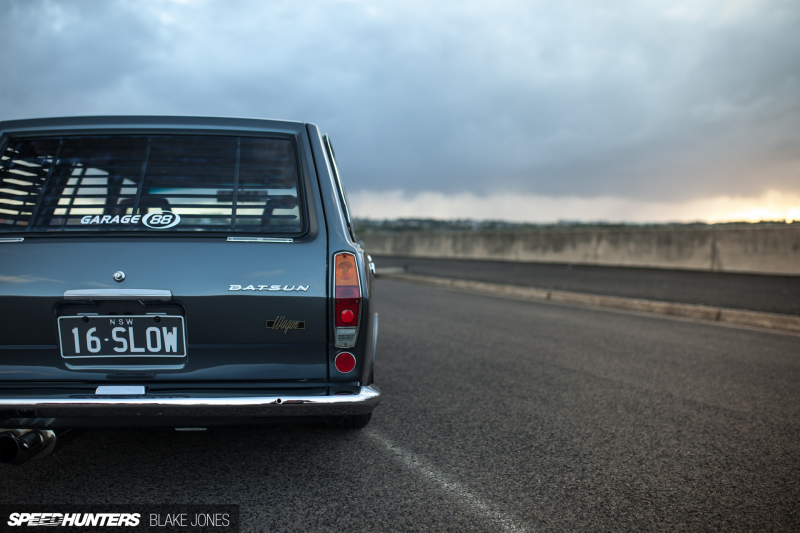 Although the plates may suggest otherwise, John's 1600 wagon is no slouch.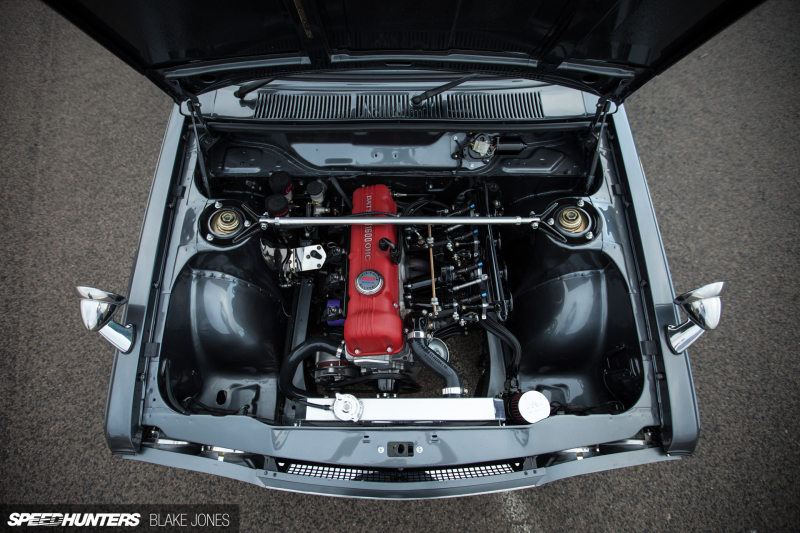 A slightly larger-than-original L18 takes up surprisingly little room in the spotless bay; it's always surprising to see just how compact small displacement piston engines used to be. With the battery relocated to the rear, the bay is mercifully free from any messy cabling.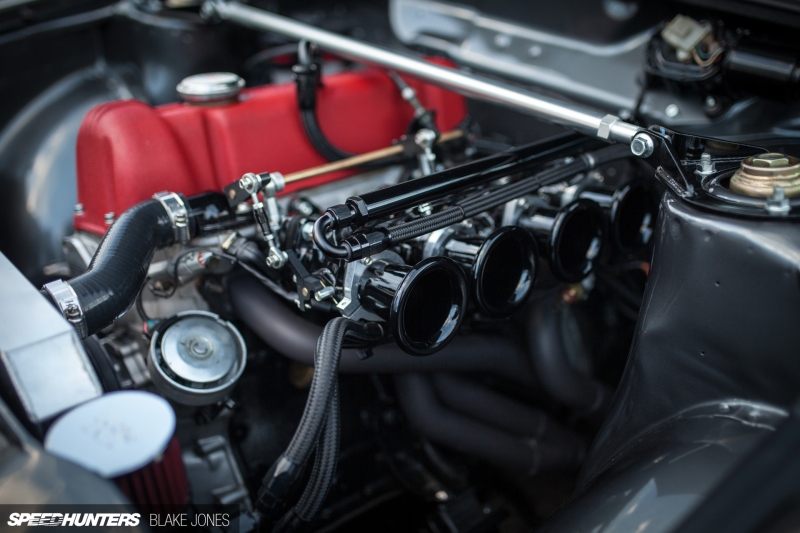 Stealing the show are the fuel injection throttle bodies assisting the L18's aspiration. I've seen this approach utilized on quite a few old school builds recently, including Eric Auburg's 
Hakosuka
; owners like him preferring the benefits of modern day injection technology without completely sacrificing the look and sonorous sound of a traditional high performance carburetor setup.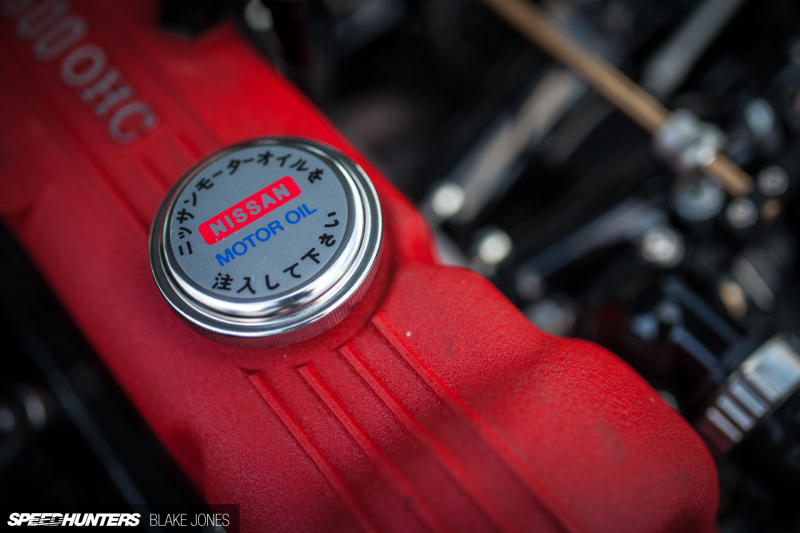 Beneath the wrinkle-coated cover John has installed flat-top forged pistons and a performance camshaft to make the most of the ported and polished head – a tried and true method to extract more horses. In this configuration it's outputting around 200hp, which is a nice number for this naturally aspirated four.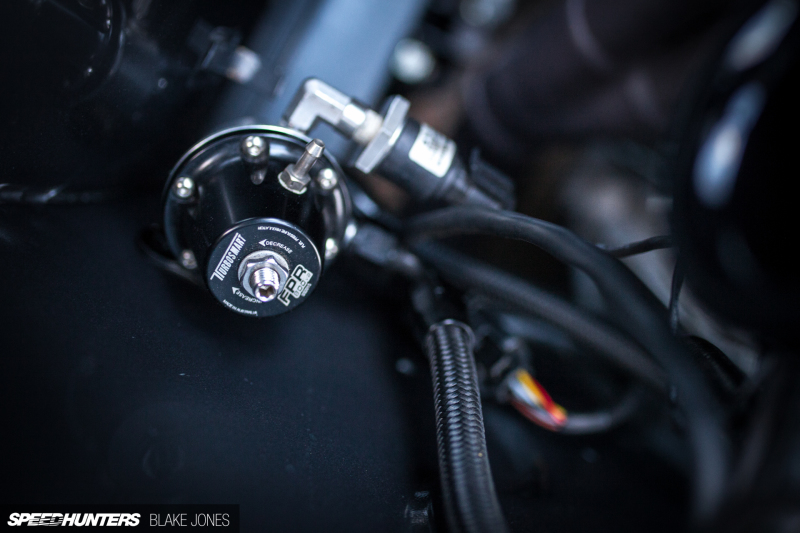 Some more modern tech in the form of coil-on-plug ignition, an Emtron SL4 engine management system and a Turbosmart 800 series fuel pressure regulator ensures that the old L18 starts up every time. That's 'the dream' if you ask any owner of a mid-'70s sports car.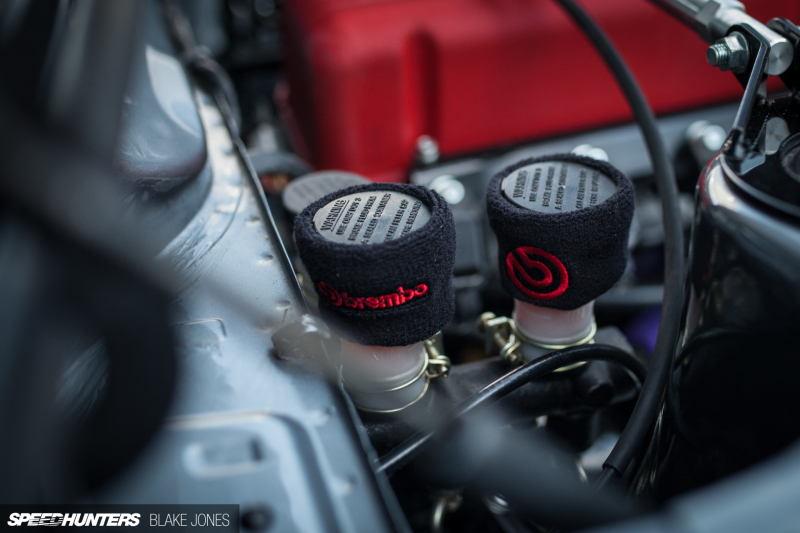 Would an SR20 have been more powerful, cheaper and easier? Yes, but going back to that sense of 
completeness
 I mentioned at the very beginning of this story, something period just makes so much more sense when the rest of the car has done such a great job of retaining its retro charm with select modernizations.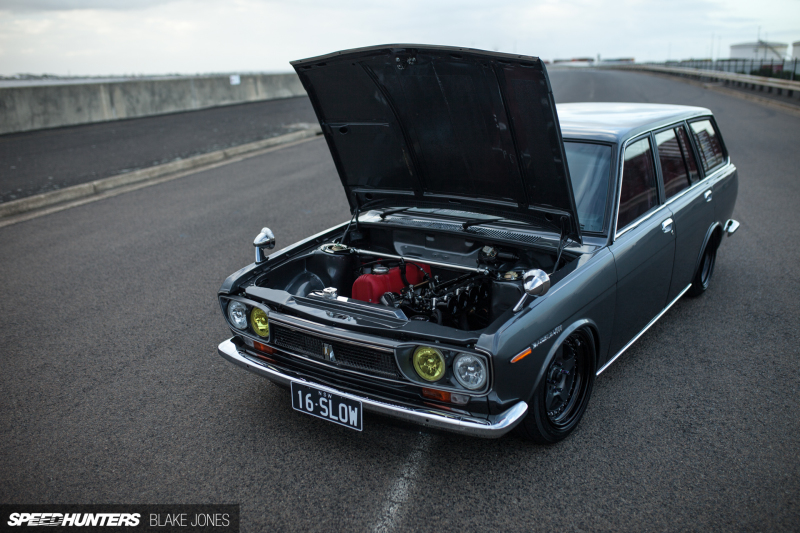 Perfect 
is a word I'm reluctant to use too often, but just look at the thing!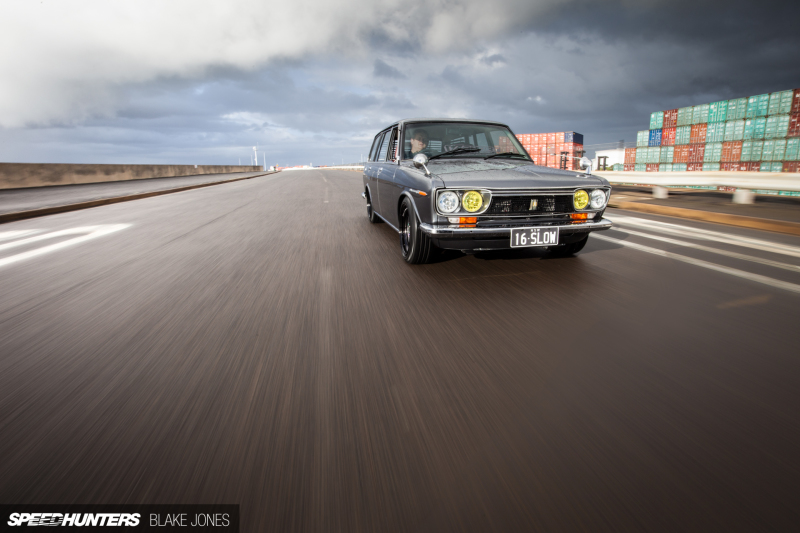 The engine sounds fantastic – especially once the revolutions start to rise. Lacking the aural balance of an inline-six, the L18 is throaty and coarse, but in a charming, nostalgic way.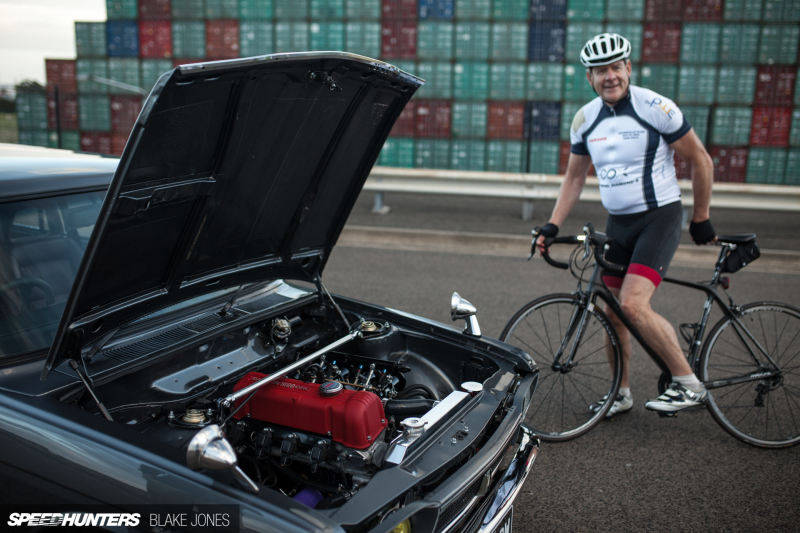 There's something attainable and relatable about a classic Japanese car that brings people together. Had we been blocking the roadway with some sleek European machine I have no doubt we'd have been scowled at; but instead, lots of waves, curious questions and knowing nods came our way. Who says cyclists and motorists can't get along?!
No Stone Left Unturned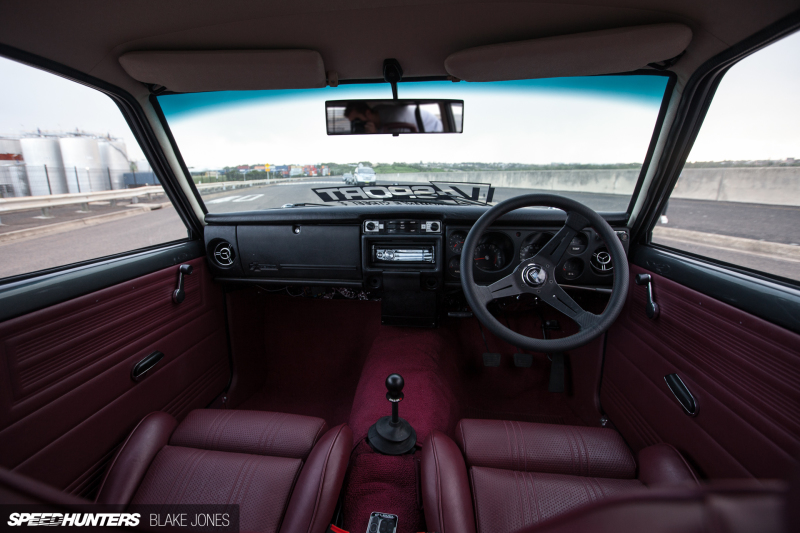 As the car is intended to be driven and enjoyed as often as possible, John has sensibly ensured that it's a very nice place to spend time in.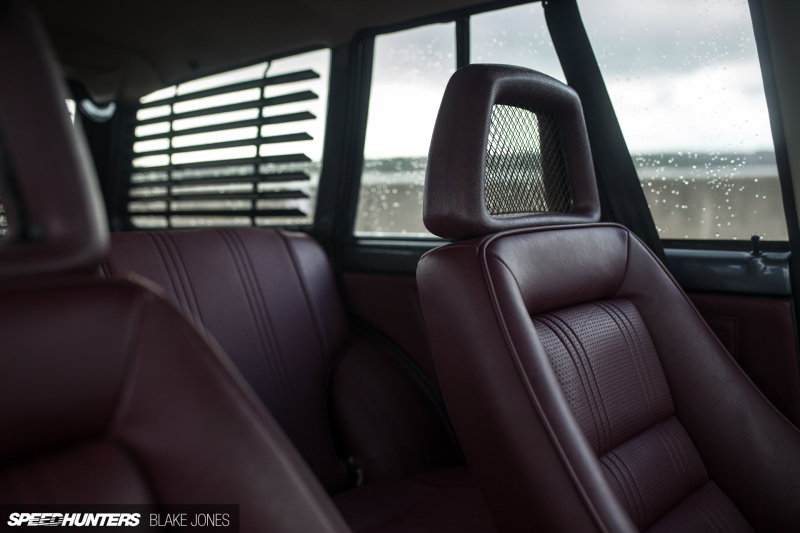 The whole interior has been re-trimmed in stunning yet suitable burgundy leather, including the handsome reclining buckets from Recaro. Long live the mesh headrest!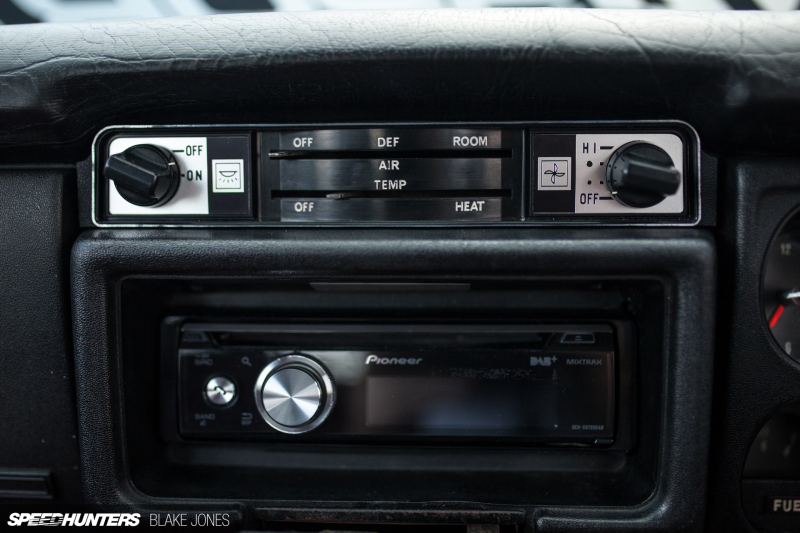 Did I mention how this car brings together old and new so effectively? The controls mounted in the SSS dashboard are no exception.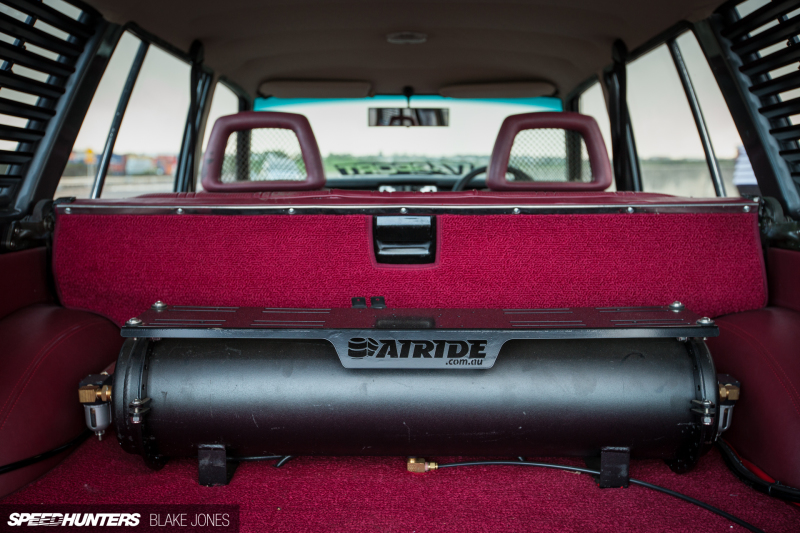 You've probably noticed just how low John's 1600 sits, well, now the secret's out of the bag! Or is the secret actually in the Air Lift Performance bags? Bad puns aside, this large tank of compressed air sitting in the rear compartment is the key to dropping the Datsun's body down to
terra firma.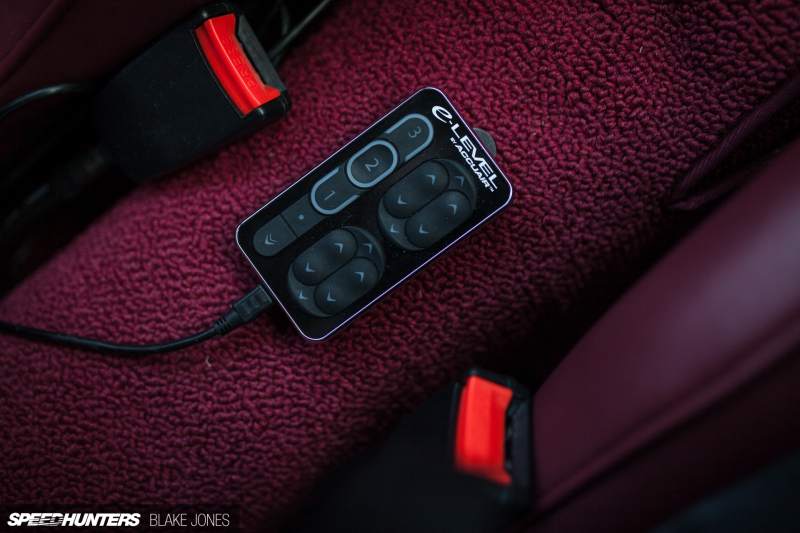 The AccuAir e-Level control system's remote kind of stands out amongst the retro interior, but if you ask John that's a small price to pay for the convenience that air offers. For whatever reason there still seems to be some animosity towards air suspension, but for looking absolutely dumped at a standstill while still retaining day-to-day usability, there really is no better option.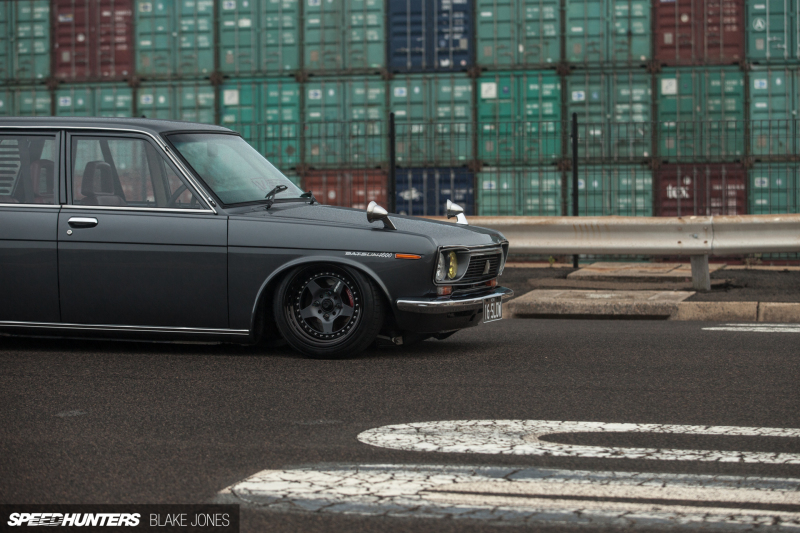 As with the rest of the car, John wanted to handle the air suspension installation himself, despite having no prior experience. It turned out to be the most challenging aspect of the build, and took plenty of experimentation and innovation to get things sitting right while keeping modifications to the body as minimal as possible. To that end, only the transmission tunnel has been touched. It's one of those things that could've been made easier with cut corners or hired help, but John's persistence landed him with a setup based on a mixture of parts bin, third party and custom components to give the desired result.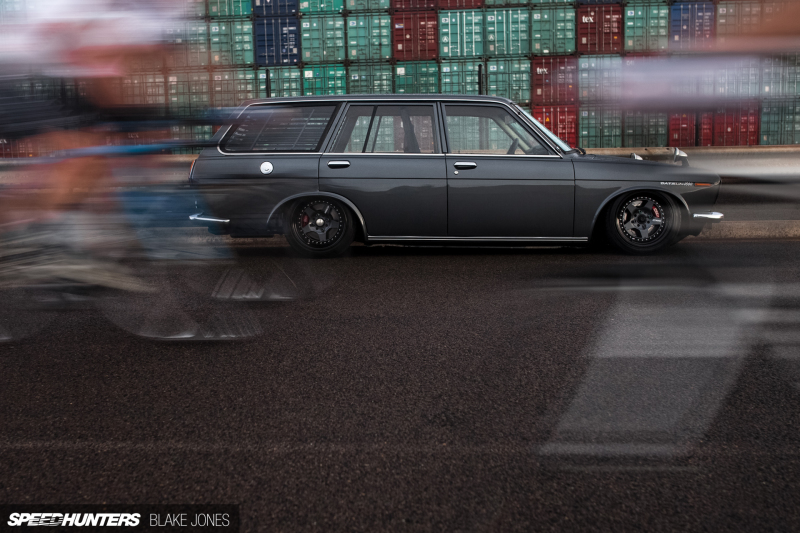 It's the first bagged car he's driven, but John said he was happy with the car's handling once he had the suspension set up to his liking. In fact, with a 4-link rear and rose joints all around, I'd bet John is being rather humble with that claim.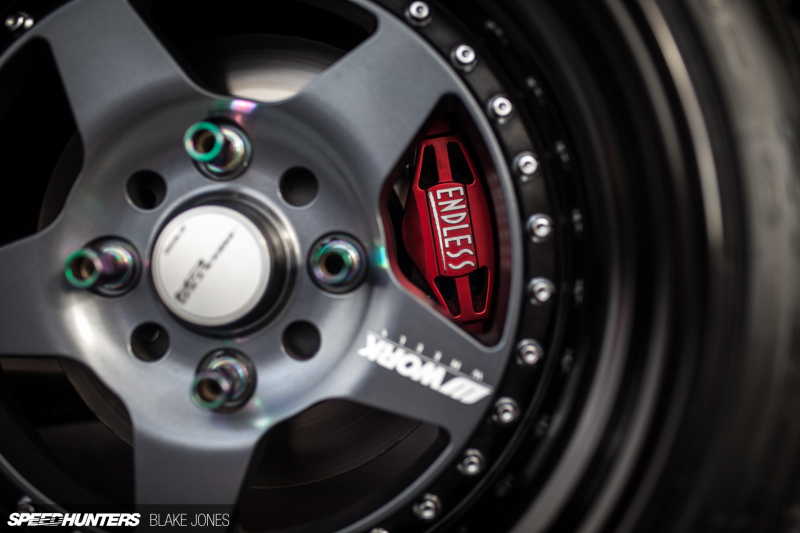 It would be easy to miss the Endless brake upgrade at all four corners as they are tucked behind the attention-grabbing Work wheels, but that would be a mistake. It's a completely custom setup from John comprising 4-piston front calipers with 298mm front discs and 2-piston rear calipers with 260mm discs. Overkill for the lightweight wagon perhaps, but the setup demonstrates the comprehensive approach that's been taken.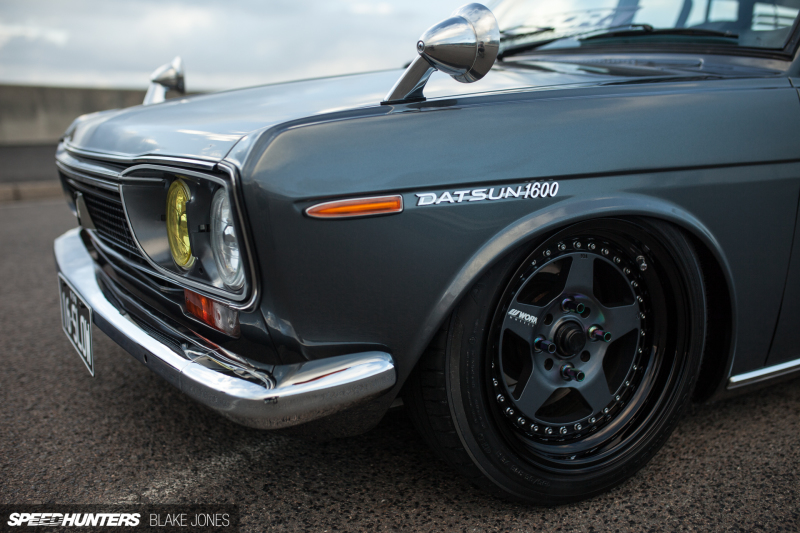 The wheels are really the final piece of the puzzle – 15-inch Work CR01s that have been treated to a custom centre colour and anodized lips. A delicious choice for the tastiest of rides.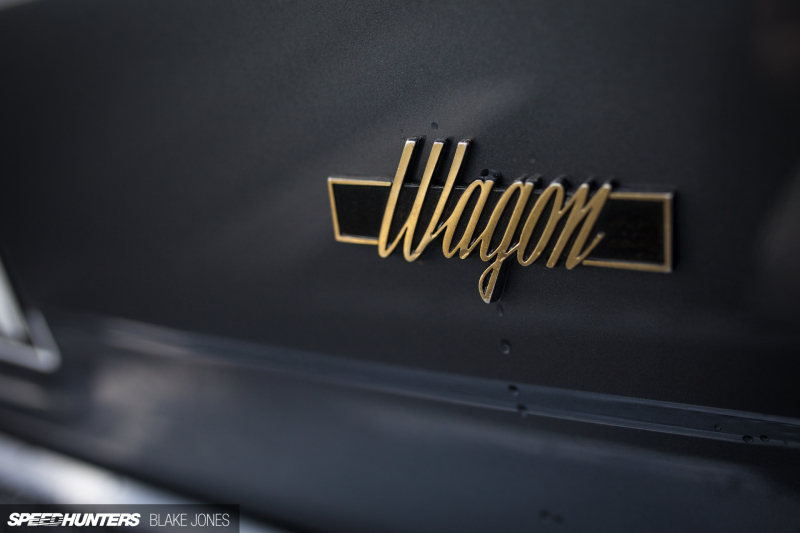 While I've photographed this car in its cleanest, freshest state, I have no doubt that once John starts to put some kilometres on the odometer it will begin to regain some patina; maybe even a few stone chips on the nose and a scrape here or there. Talking to John, I don't think he cares one bit though. The next part of the story with the wagon is all about good times with friends and family.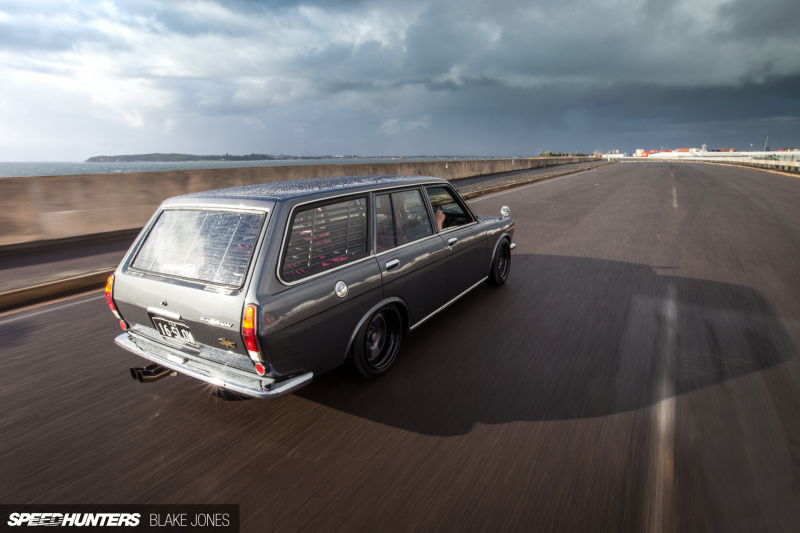 In that sense, the build of this 1600 wagon may be complete, but the journey is just beginning.
Blake Jones
Instagram: 
blaketjones
blake@speedhunters.com